Some Late Night Rambles
I should be sleeping but wanted to ramble about photography and some of the trends I am seeing lately. I shoot a lot of portraits and have worked with quite a few models. Some range from new models to really experienced models. One thing I have noticed not just in my own photography but just in general is that most of the styles and looks of models/photographers I like are mostly located in Europe. North American photography seems all about just showing "sex" and not really beauty. Some photographers and models in North America seem to consider this to be artistic and beautiful.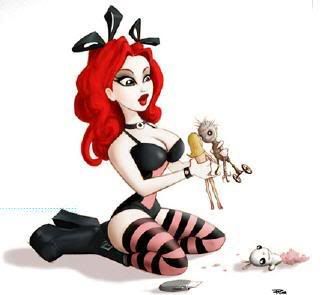 So many models go for this look in North America
There is nothing wrong with the whole Goth/Pinup stuff, I don't mind shooting it but it's not really my thing. I really like shooting more natural stuff, natural light. I prefer a model with no facial piercings and she does not need a ton of ink all over her body. This is the kind of photography I LOVE and I see very little of it over in North America. I am hoping to take my own photography in this direction as soon as I can. I realize I need to go full frame to get this style so I may have to wait a bit before I can get the look I want to go for. But I already sense from using a 5DMII that I can achieve this look with enough practice with a full frame. I just hope I can find the right models to work with to get this look. I really want to take my photography more in this direction. Which does not mean I only wanna shoot this forever and ever, I just need a break from the usual stuff I have been shooting and try and challenge myself to do something different. These photographers have work I just LOVE.